Dispatches from public radio's correspondent at the Washington Legislature. Austin Jenkins is the Olympia correspondent for the Northwest News Network. You can also see Austin on television as host of TVW's (the C–SPAN of Washington State) weekly public affairs program "Inside Olympia."
Inslee Wants Washington State To Declare Opioid 'Public Health Crisis'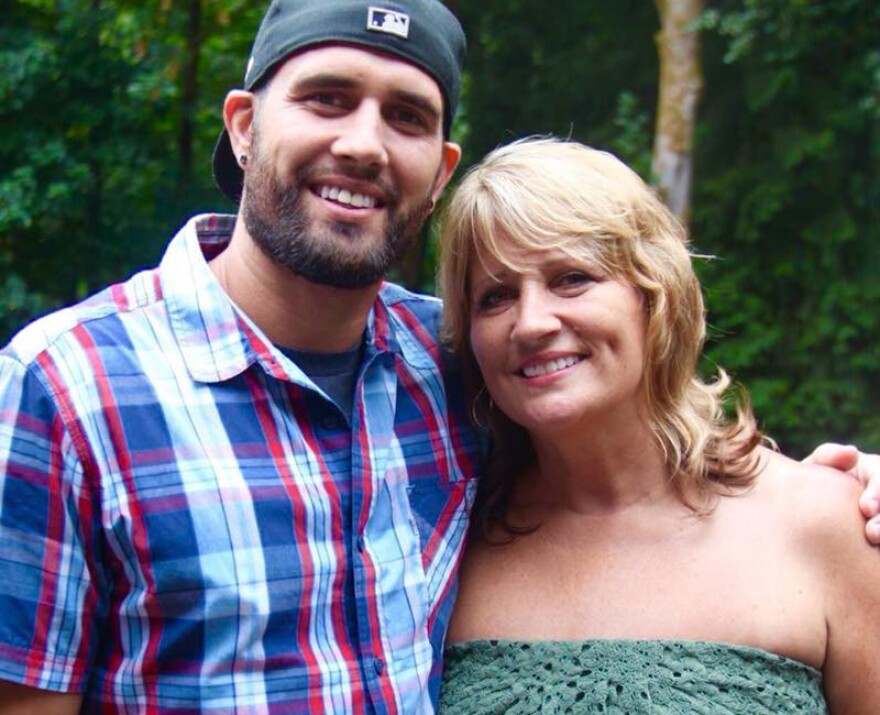 Washington Gov. Jay Inslee wants state lawmakers to declare the opioid epidemic a public health crisis.
On average, two people die each day in Washington from opioid overdoses. That includes deaths from prescription and synthetic opioids, as well as heroin.
One of those people was Kyle Brinton of Lacey, Washington. He died last October at the age of 31. His mother, Shannie Jenkins, says he had struggled with opioid addiction since high school.
"I watched this drug change his brain. I watched a lot of his friends going down the same path," Jenkins said in an interview.
Jenkins said her son had gone to prison, gotten clean and was training to be an HVAC engineer when he died from a heroin overdose. His fiancee is expecting their first child in April.
"He didn't want to die, he wanted to be a dad, he was so happy in life," Jenkins said.
Jenkins will appear with Inslee on Monday when he brings together prosecutors, victims, public health experts and state agency directors to discuss the state's ongoing response to opioids.
Inslee is also asking the Legislature to pass a law this year declaring opioids a public health crisis and requiring state agencies to expand access to addiction treatment. In October 2016, Inslee signed an executive order addressing the opioid crisis.
"This is definitely a public health crisis," Jenkins said. "We are losing a whole generation."
In 2016, 694 people died in Washington of opioid overdoses, including 382 from prescription opioids like Oxycontin. Prescription opioid deaths peaked in 2008 and have since declined 44 percent. But heroin deaths are up.
The problem is most acute in the Native American community where the overdose rate is more than twice as high as among whites.
The state of Washington estimates more than half of opioid addicts do not have access to medication-assisted treatment such as methadone or buprenorphine. Inslee has set a goal of increasing access to treatment by 40 percent over the next two years.
In his supplemental budget proposal for 2017, Inslee is proposing an additional $20 million in treatment and prevention funding. Ultimately the state hopes to get approval from the federal Drug Enforcement Administration to deploy mobile treatment units in targeted areas.
"The governor's bill and budget proposals focus on treatment and that is what is critically needed right now," said Jason McGill, the governor's senior health policy advisor.
Separately, lawmakers are considering several other proposals. One would limit opioid prescriptions to seven days for first-time patients. Another would require doctors to review a patient's painkiller history before writing a prescription.
There's also a bill to require all doctors who prescribe opioids to complete a one-time class on best practices when prescribing opioids.
However, the governor's office says these bills may be unnecessary because these provisions are already the subject of Department of Health rulemaking as a result of a law implementing recommendations from a King County Heroin and Opioid Task Force.
Opioid addiction among Washington students is also a concern.
In 2016, roughly 5 percent of 10th and 12th graders reported using a painkiller to get high in the last 30 days.
State Rep. Gerry Pollet, a Seattle Democrat, has proposed legislation to make overdose reversal medication available in all schools.